Tuesday, August 9, 2011 by Slaughter Development
Creating a successful business involves more than just a great idea; it also takes a wide range of skills. For a Chicago businesswoman however, one technique in particular helped morph her company into a multi-million dollar business.
Kim Oster Holstein, Founder and CEO of Kim and Scott's Gourmet Pretzels, started her business with the intention of reinventing the pretzel. In a recent article highlighting her company, Holstein owes her inspiration to local resources:
After reading an article about a soft pretzel stand at a local Chicago green market, Kim became obsessed with the idea that she could turn the pretzel concept inside out – literally. She envisioned stuffed pretzels in funky flavors like cinnamon roll and grilled cheese, a whole new spin on a classic American snack.
From the start, Holstein was enthusiastic about her concept. And despite the bouts of rejection, she never gave up on her idea. Instead, she utilized the technique of positive thinking to maintain her focus and keep her goals clear:
One day, Scott [Kim's husband] showed up at Kim's door with a handmade piggy bank decorated with a flying pretzel and the motto, "Dreams made upon deposit will come true." As the business grew, they started papering the apartment with sticky-note affirmations such as, "Our sales are $200,000, but we have a million-dollar business."

. . .

Kim, who calls herself the CIO or "Chief Inspiration Officer" of her company, still posts affirmations around her office. One reads, "We are going to make and sell a million pretzels a week." Kim says, "Sure, we're not there yet, but we have a vision for growth. We see those numbers and believe them."
Kim and Scott's Gourmet Pretzels sells freshly made pretzels to regional outlets and stocks the shelves of nationwide stores such as Whole Foods, Walmart and Barnes and Nobels. Today, the company is estimated to be worth anywhere from $10 million to $15 million dollars.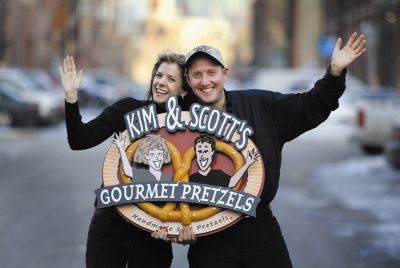 The power of positive thinking is a concept we often discuss on The Methodology Blog. That's because we believe maintaining a strong and optimistic mentality not only impacts your performance, productivity and satisfaction in the office, but in your life as well.
That's not to say that upbeat thoughts will solve all your problems. Rather, putting your mind in a positive state is the best possible foundation for tackling meaningful and challenging work. So take the time now to establish a balanced and happy existence at work. We guarantee you'll quickly recognize (and reap) the benefits.
Concerned your office is accidentally destroying morale? Consider reaching out to Slaughter Development today to learn more about we can help get your office back on track.
❖ ❖ ❖
Like this post? Here are some related entries from The Methodology Blog you might enjoy:
Failure: The Secret to Success
- Making a decision at work sometimes feels like sliding a quarter down a slot machine. Every chance taken is a gamble between success and failure. But without placing bets or playing cards, can we find success and make our dreams reality?
Read on »
Happiness Breeds Success
- As we enter a new year, it's a good time to reassess how we think about work. That's why a startling revelation about what makes us happy is a powerful place to begin 2010.
Read on »
Failure, Risk and Success
- Cathie Black, chairman of Hearst Magazines, recently published a book that unveils her secrets to success. Interestingly enough, much like Slaughter Development, her tips encourage readers to embrace failure and take risks.
Read on »