Tuesday, July 26, 2011 by Slaughter Development
The recent thunderstorms in Indianapolis have left one Slaughter Development colleague quite unhappy. Not only has the severe lightning fried her phone and computer lines, it's singed her confidence in a nationally recognized provider.
Damie Allison did not expect to spend two-weeks fighting with her cable provider to get her phone line, modem and router repaired when they were struck by lightning. But, that's exactly what happened. Her unbelievable story is below:
The day my computer line was struck by lightning I called Comcast. Since my home phone was out, I called from my cell phone which has a (561) area code [which is south Florida].  I followed the automated prompts and dialed in my home phone number to access my account. Though my home phone is a (317) area code, the system—in an attempt at being efficient—overrode the number dialed and routed my call to the south Florida office. Unfortunately, the Florida representative informed me she couldn't help because my account was established in Indiana. She gave me the direct 1-877  number for the Indianapolis office and manually transferred me to them.

After I was connected, I went through the motions again by plugging in my home phone number. I was told by a local representative that home phone customers are a high priority and I would have an appointment within 48  hours. Though I was assured that someone would call me the following day, I never received a call.  Concerned, I called the direct Indianapolis office line, but my call was repeatedly denied. I simply kept getting automated messages saying my "call cannot be completed as dialed".  I was forced to call 1800-Comcast, wait on hold and go through all the motions only to be routed to S. Florida again where I was told only the Indianapolis office could help me.
While the idea of establishing a more efficient call system is great, Comcast's attempt at improving the process failed before it even began. Here's why: They did not take into consideration all realms of possibility in regards to phone calls. Namely, they failed to recognize that not only have cell phones become main phone lines of many consumers, but such numbers don't define a caller's actual location. As the diagram below demonstrates, Comcast's system is nothing more than an infuriating process that is never-ending and ineffective for customers.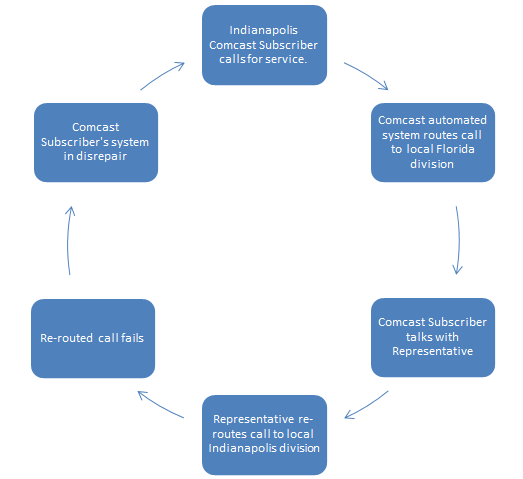 Sadly, this is not where Damie's story ends. Despite the frustration that came with the phone routing system, she suffered further roadblocks as time went on.
It took days to finally get an appointment, and even then they expected me to wait over a week. Though I was upset, I waited patiently for the service. Yet, when the day of the appointment arrived, no one called or showed up.  When I called Comcast, I was once again thrown into the circulation of re-routed calls and transfers. Afterwards, I found out that my appointment was rescheduled and occurred three days prior to my original time. Since I was unaware of this change, I wasn't home to let the tech in.

Turns out, after Comcast finally repaired my phone system, I was able to check my home phone's voicemail. Only then did I discover that Comcast called to alert me that my appointment changed. Yet, my service ticket in their system specifically noted that my home phone was out and in need of repair. To this day I'm still baffled: Why were they calling that number and leaving messages on it when they knew specifically it wasn't working? To me, their attempts at an efficient process is nothing more than a fried system of misdirection, miscommunication, and misguidance.
Though this productivity paradox makes us cringe, we all can empathize with Damie's experience. In fact, we've covered a similar problem with Comcast's main competitor! The story brings to light just how important Slaughter Development's mission is when it comes to workflow and stakeholder satisfaction. To learn more about what we do and how we can help your company effectively improve processes in your office, contact us today!
❖ ❖ ❖
Like this post? Here are some related entries from The Methodology Blog you might enjoy:
Outstanding Confirmation System
- As a working mother I have a lot to juggle when it comes to organizing my life. So when I discover something that makes my day run smoother—no matter how small it may be—I often feel compelled to share it with others.  This is one of those times.
Read on »
The Funneling Sales Call
- Today on The Methodology Blog we tell the story of Joe, who has been in phone sales for over a year and has done pretty well for himself. He spends his days pitching a product and setting up appointments for potential customers. All in all, his phone calls appear successful. But are they really? We'll let you be the judge.
Read on »
The Call Volume Paradox
- Joe is a sales professional with a problem. His management is unhappy despite the fact that Joe is fantastically successful at closing great deals.
Read on »
3 Responses to "Efficient System Gets Fried"
ComcastMark Says:
July 27th, 2011 at 4:22 pm

Hello there!

I am sorry to learn about Damie's experience. I was hoping that you could connect me to Damie. I work for Comcast and I'd like to share her experience with my local colleagues in her area. We will certainly look into her concerns and ensure that any recurrence is prevented.

Thanks in advance,

Mark Casem
Comcast Corp.
National Customer Operations
[email protected]

Robby Slaughter Says:
July 29th, 2011 at 10:15 am

Thanks for your response, Mark!

It's great to see that Comcast has automated tools combing blogs for references to their name. But your response *illustrates* the problem at hand. You know Damie's name, her location and the details of her problem. Why do you need us to reconnect you? Why can't you go into Comcast's internal system to look her up and contact her directly?

These problems may not be easy to solve, but if you need information on your customers, you should be able to ask them directly. That's the kind of customer service that people would like to see.

ComcastMark Says:
July 29th, 2011 at 11:38 am

Hello Rob,

When I read your post, I tried locating Damie's account with the information provided here but I was not able to. As a result, I decided to leave a note here hoping that Damie can be informed that I am trying to reach out to her. I just wanted to reach out to her because I certainly want to help in making sure that this does not happen again in the future.

Thanks,

Mark Casem
Comcast Corp.
National Customer Operations
[email protected]
Leave a Reply